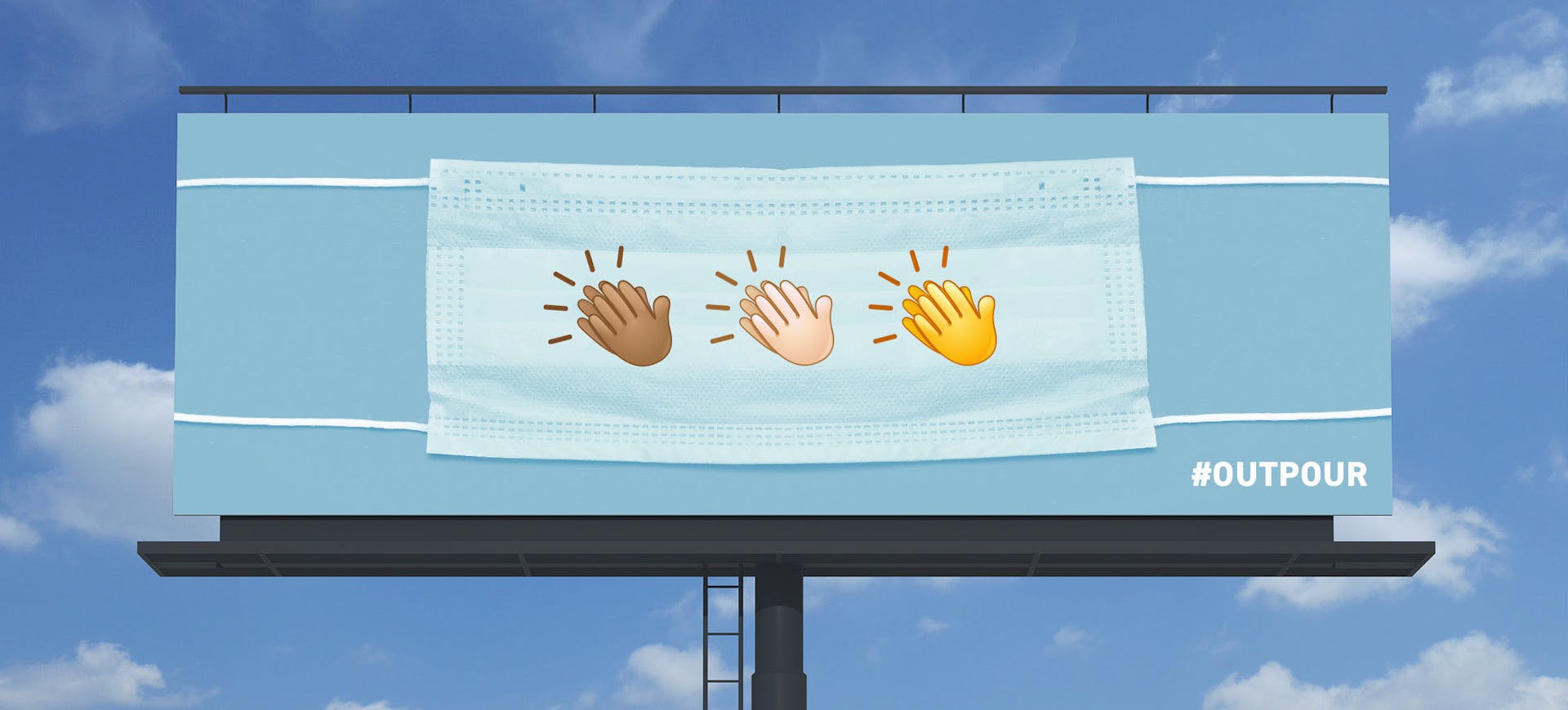 Title
Buntin's "OUTPOUR" Campaign Wins OBIE Gold
Nashville, Tennessee (March 25, 2021) – An out-of-home campaign created last year by Nashville-based The Buntin Group - #OUTPOUR – designed to thank frontline medical workers fighting coronavirus has earned an OBIE Gold by the Outdoor Advertising Association of America (OAAA). The leading trade organization for the out-of-home industry, the OAAA awarded only five OBIE Golds this year.
"As the home of healthcare, we felt Nashville should also be the home of thanking the brave healthcare workers fighting on the frontlines of COVID-19," says Buntin Group CEO Jeffrey Buntin, Jr. "In a time when organizations were pivoting to combine efforts – manufacturers switching to making ventilators and restaurants feeding first responders – the agency wanted to use our talents and resources to step forward in this time. The out-of-home format was the perfect vehicle for an outreach effort such as this."
The campaign, which launched in April 2020 was originally intended for Nashville, but quickly expanded to nearly a dozen other markets including New York, Atlanta, Columbus and Los Angeles as numerous out-of-home companies donated traditional and digital boards and screens to greatly extend the "OUTPOUR message.
"The award reaffirms the strong ties that the out-of-home industry has with both its community and with its business partners," Buntin notes. "Together, the industry as a whole was able to draw upon their unique expertise to amplify this important message. The gold recognition truly goes to these workers."
About The Buntin Group
With operations in Nashville, Indianapolis, Detroit and Atlanta, The Buntin Group is among the leading independent brand communications firms and an ADWEEK-recognized "Top U.S. Shop." The agency specializes in building brand and business momentum for national and international client organizations across diverse industries through its "Everything Speaks" mission. In addition to its work with corporate clients, the agency operates a cause-branding division called AdHope that assists organizations in maximizing their social value through "great work that does good in our world." To learn more, visit buntingroup.com, facebook.com/buntingroup, or @TheBuntinGroup on Twitter and Instagram.
# # #
Media Contact:
The Buntin Group – Brian Harkness | bharkness@buntingroup.com